Skip to Content
Effective Air Duct Cleaning Solutions in Kansas City
Regularly cleaning your HVAC system's air ducts is a highly efficient and cost-effective means of protecting the safety and well-being of you and your family. Routine air duct cleaning is a vital yet affordable way to ensure the air you breathe every day is clean and healthy. At Airmasters Air Duct Cleaning, we're proud to provide world-class air duct cleaning services to homes and businesses throughout the Greater Kansas City Metro area. Our specialized air duct cleaning process involves advanced techniques that will rid your indoor air of harmful pollutants while optimizing the performance and lifespan of your HVAC system. Learn more and get in touch with us to get started today.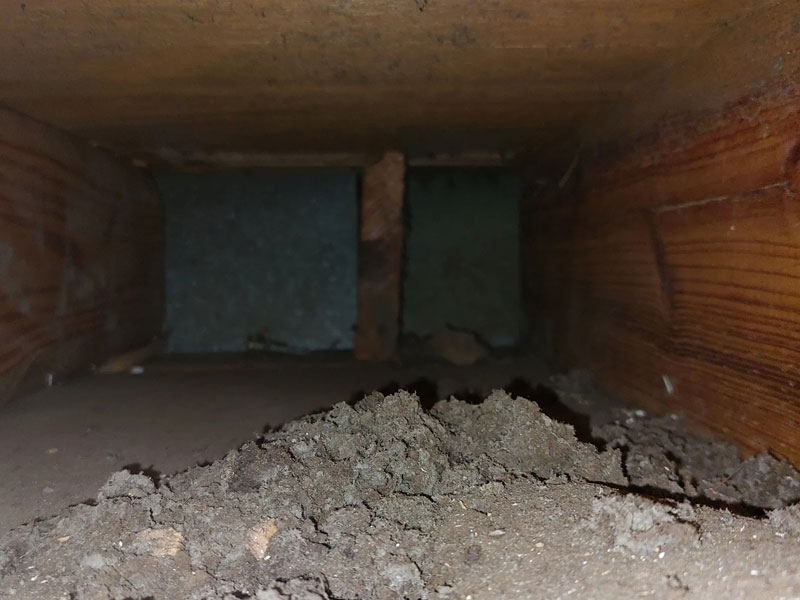 The Benefits of Air Duct Cleaning
Outdoor air pollutants can enter your home or business through openings like doors and windows. Over time, contaminants such as dust, dander, smoke, and other harmful airborne materials can begin to build up, negatively impacting the quality of the air you breathe and adversely affecting your overall health.
Cleaning your air ducts eliminates all the health hazards that may be lurking in your HVAC system. Our professional technicians at Airmasters Air Duct Cleaning make the process simple! We use industry-leading tools and techniques to treat your HVAC system for damaging particles that could lead to higher energy bills and equipment defects.
Schedule an Air Duct Cleaning With Us and Enjoy Complimentary Benefits Free Dryer Vent Cleaning With Every Residential Air Duct Cleaning Service

$50 Discount on UV Light Installation With Air Duct Cleaning

Ask About the Flex Scheduling Discount!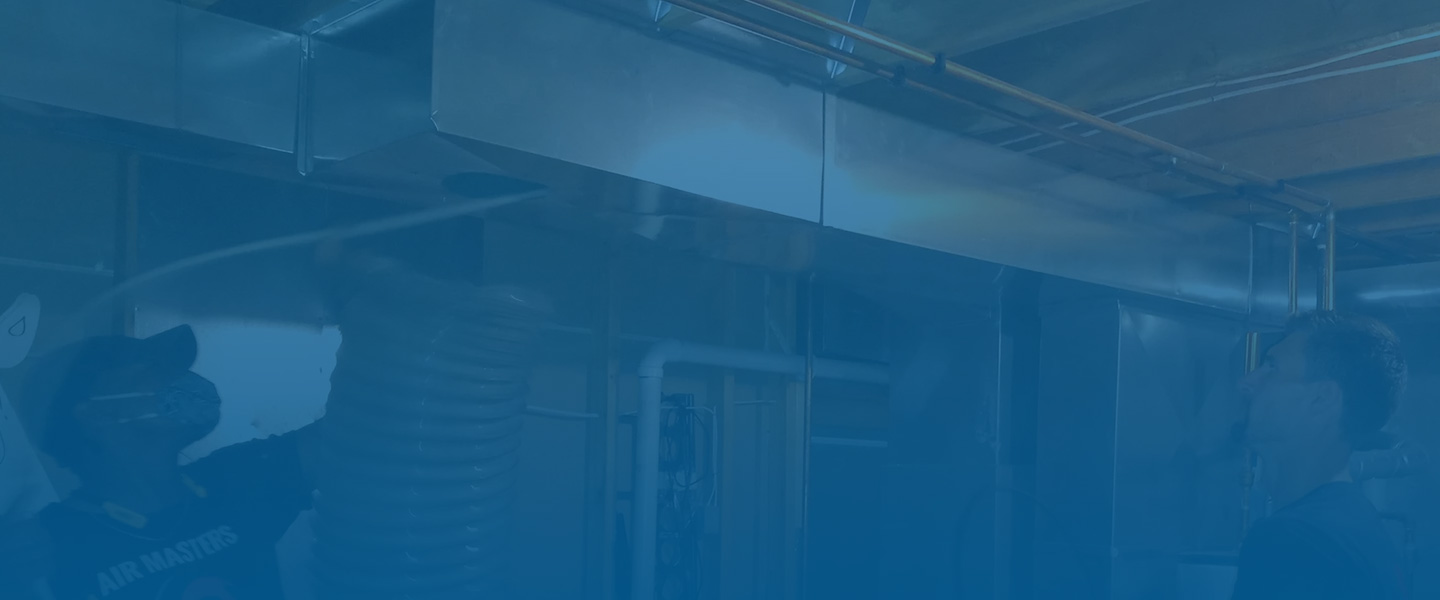 How Often Should Air Ducts Be Cleaned?
Your HVAC system is a vital influence on your daily comfort level while indoors. Despite the size of your property, the National Air Duct Cleaners Association (NADCA) recommends that homeowners and commercial property managers clean their system's air ducts at least every three to five years. If you suspect your air ducts are contaminated, our process works fast to improve equipment performance and enhance your overall health.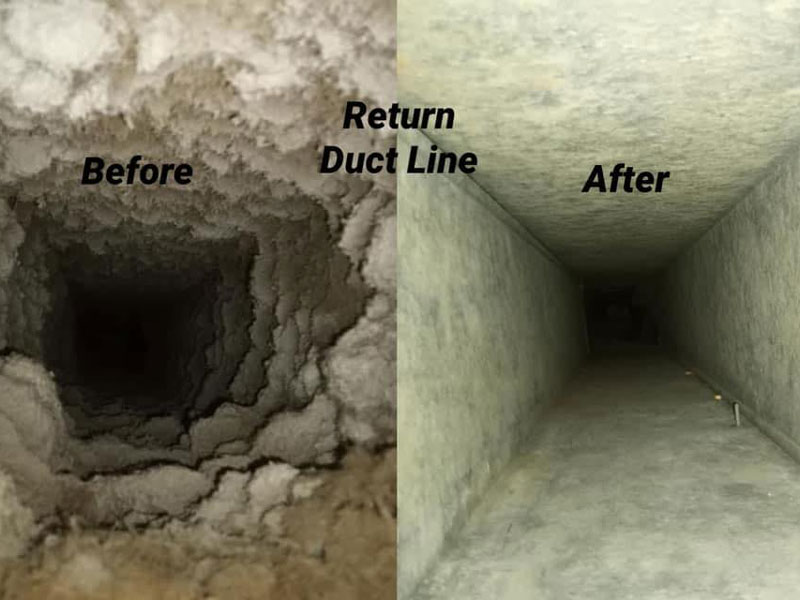 Does Cleaning Air Ducts Really Make a Difference?
Adding professional air duct cleaning to your maintenance routine introduces more power and efficiency to your HVAC system. Frequently cleaning air ducts ultimately contributes to better living and indoor working conditions. We make improving your air quality easy and affordable. Airmasters Air Duct Cleaning provides a thorough and impressive cleaning process to effectively rid your HVAC system of contaminants that harm your health. We will treat your air ducts with our pneumatic air duct cleaning system, a process specifically designed to target even the heaviest of debris that may have built up within your system. We'll also apply a non-toxic disinfectant to your existing ductwork. When you partner with us for air duct needs, we'll maximize the overall quality of the air in your indoor environment while adding more savings to your utility costs.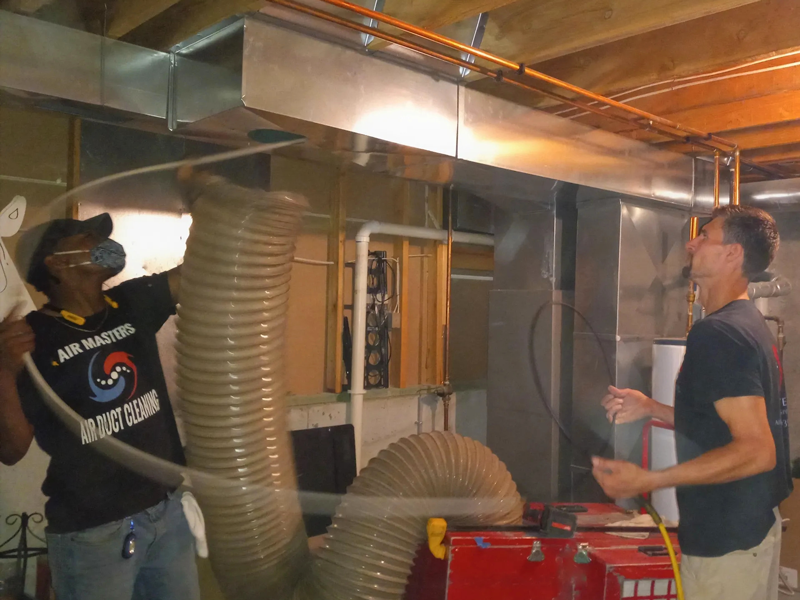 Our Cleaning Process
We use the pneumatic air duct cleaning process which has two key components.
Breaking the Contaminates Loose

Agitation tools, including compressed air whips and nozzles, are used to loosen contaminates.

Contaminate Collection
A negative air pressure machine is attached to the mainlines, creating a continuous negative pressure or strong suction that collects contaminates into the machine so they can be removed from your home. Simply using a shop vac will not do this.

Additionally, we apply Sporicidin®, a non-toxic, EPA-registered bactericide, fungicide, virucide, and tuberculocide. Sporicidin® also keeps odor-causing bacteria away for as long as six months.
Raising the Industry Standard
Airmasters Air Duct Cleaning is committed to serving our communities with the highest quality service available in the Kansas City area. Our family-owned and operated company takes pride in offering services that benefit the everyday lives of the customers we serve. Our professionals are ready to help you enhance the comfort and quality of your indoor environment. Contact us today to get started.